HAMMEL INDEPENDENCE DAY: Bad Salzungen
A successful demo day of brilliant blue sky on the HAMMEL company site
A demo day is always the perfect occasion to bring oneself up to date.
After a long break, the HAMMEL company invited their customers and dealers. The guests from Bulgaria, the Netherlands, Italy, France, Austria, Switzerland, Denmark, the Czech Republic and Germany were able to experience some innovations in the field of processing plant construction and mechanical engineering.
Our guests found out how the HAMMEL shredders are manufactured during an obligatory company tour through the production and storage halls.
In the practical part, the HAMMEL company showed various machines both for shredding waste wood and processing metal scrap.
The HAMMEL shredder type VB 450 DK-DUO, equipped with four shredding shafts, processed the waste wood in one step to a finished end grain of approx. G100.
The HAMMEL two-stage wood plant consisting of a primary shredder and a secondary shredder presented the alternative in wood processing. The innovation in that plant is the newly developed primary shredder type VB 950 EK. It is a mobile shredder based on tracks equipped with slow-speed shafts and an electric drive of 2 x 250 kW. The advantage of the machine is that the material can be loaded without a crane. After right positioning, the shredder can be connected to the power supply and its work begins in an environmentally friendly manner with an electric drive. A high-speed machine equipped with a knife rotor and a pre-tensioned screen basket is used for secondary shredding. You can achieve end grain sizes of approx. 0 – 50 mm, 0 – 90 mm and 0 – 120 mm, depending on the size of the screen basket. The finished wood chips are almost free of impurities and can be delivered directly to the chipboard factory or used for incineration.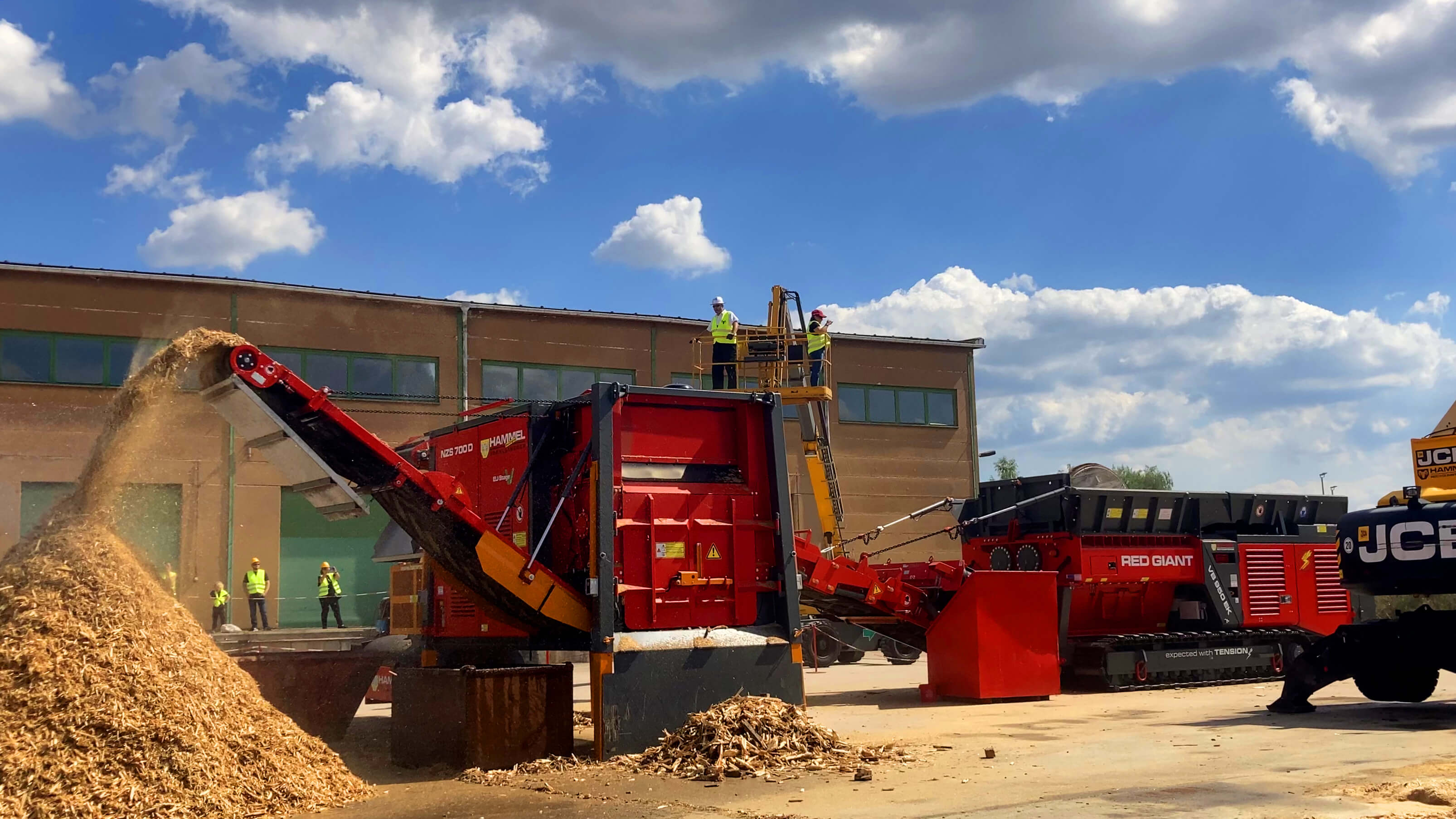 There is no doubt that the highlight of the demo day was the presentation of the HAMMEL metal processing plant, which will soon be in use at a scrap customer. The primary shredder, RED GIANT, pre-crushes the input materials such as light mixed scrap, car bodies and white goods and subsequently the metal screen separates the material into sortable fractions. The integrated magnetic drum sorts ferrous from non-ferrous metals. The ferrous metals are then freed of inclusions by manual sorting and are transported directly to a truck via a stockpile belt with a discharge height of approx. 6 m or stored on a stockpile. The non-ferrous metals go to an eddy current separator, which separates the screened materials into an aluminium and fluff fraction. Sorting tables are arranged behind each discharge belt, where manual fine sorting of copper, stainless steel, etc. can take place. With this complete metal plant, the customer receives sorted end products that he can market well.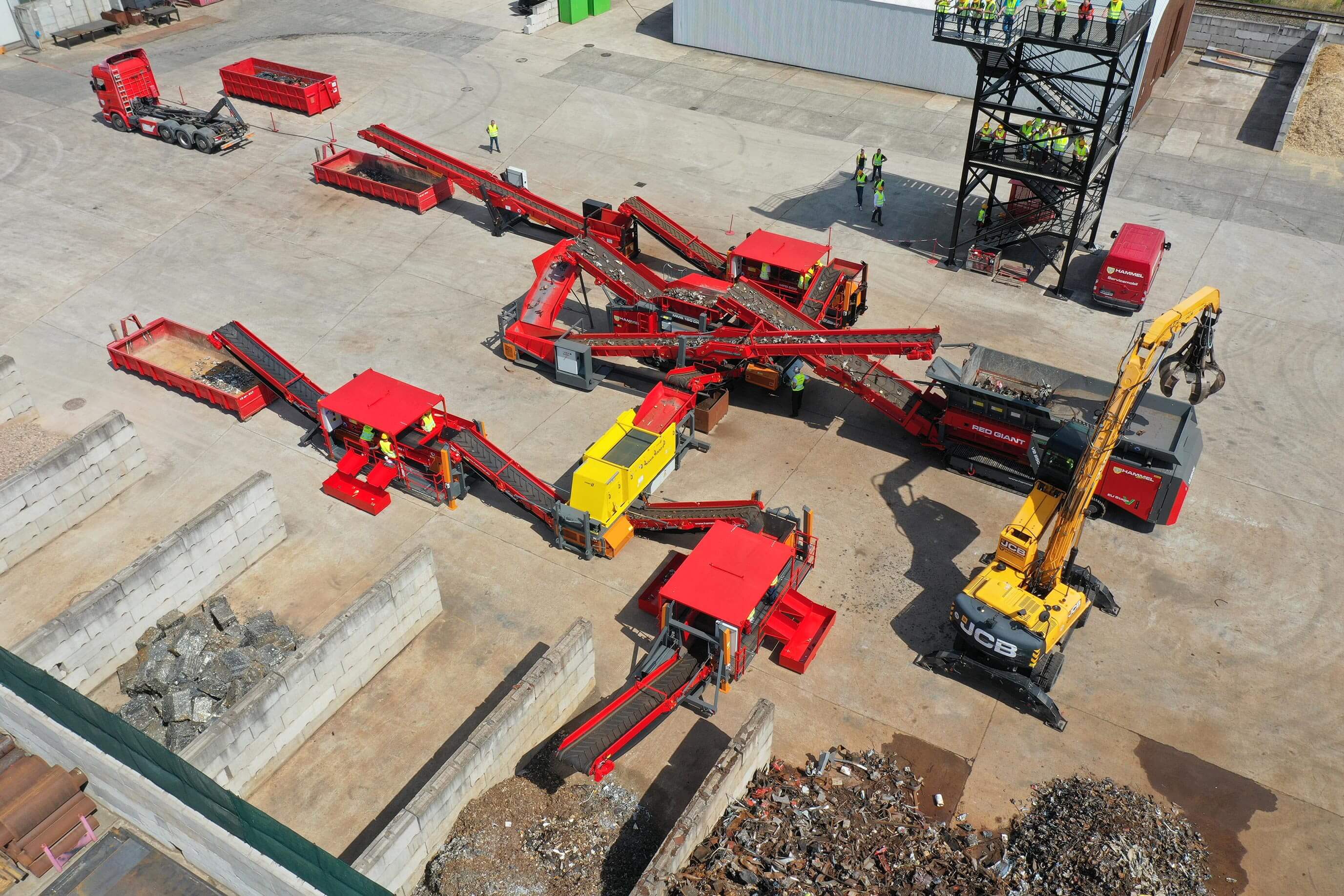 At best summer weather all participants were able to get a good overview of the HAMMEL product range. HAMMEL thanks all participants for their visit and we are already looking forward to the next demo day in Bad Salzungen.
Joomla Gallery makes it better. Balbooa.com